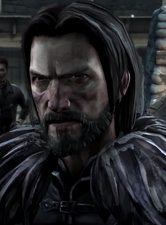 "I like a man that's honest about his lying, but never lie about about being honest!"
— Matt, imitating Frostfinger
Denner Frostfinger is a recurring character in Game of Thrones (Telltale Games). His truth lying serves as the main running gag in the LP where Matt and Woolie do impersonations of Frostfinger in his rough voice yelling at Gared Tuttle for not truth lying while being not honest about his lies.
TBA
"Not wise to tell the truth Tuttle... you're an honest man Tuttle'. Cut back ten minutes before, 'That's good, I like you, tell the truth Tuttle... you should have lied Tuttle."
— Woolie exposing Frostfinger's ideology
"Time to start telling the truth like a real liar."
— Woolie
"And remember, kids: always lie about you being honest."
— Matt
Community content is available under
CC-BY-SA
unless otherwise noted.