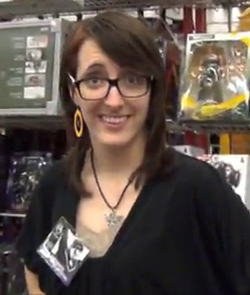 "Shut the fuck up!"
— Pat
Dork Girl is a title given to the three members of a nebulous group of dorky females acquainted to the Zaibatsu.
Description
Edit
The primary Dork Girl (real name Leah) was first mentioned in part nineteen of The Last of Us, and is apparently so dorky that Matt only needed to refer to her as "Dork Girl" in order for Pat to know who he was talking about. Her other dorky friends, first mentioned in episode ten of Rustlemania, are also considered Dork Girls but are of a lesser dork quality.
The primary Dork Girl's earliest appearance can be heard in the Scribblenauts Wii U episode, but made her first credited appearance in the second episode of the Super Best Friendcast, The Feel of a Podcast, being called only Dork Girl the entire time. The other two Dork Girls can be heard for the first time in the Lollipop Chainsaw episode. [1]
Matt watched the Fatal Fury movie with Dork Girl over Skype.
She was briefly seen in Matt & Liam's Bomb-Ass Zelda Orchestra Symphony.
According to Pat in Illbleed, Dork Girl keeps creepy mannequin heads all over the place.
In two different episodes of Shitstorm 2: The Shittening (e.g. Resident Evil Code Veronica), Dork Girl has been known to say "3spooky5me", which Pat has said on the show.
In Volgarr the Viking, Pat states that Dork Girl is a fan of Yu-Gi-Oh!.
There are two other Dork Girls, and the third goes by "TLC" (representing the first letters of their names), as revealed in episode sixteen of the Super Best Friendcast.
In episode twenty-seven of the Friendcast, Matt revealed that he gave his rats away to two of the Dork Girls, since Zach was causing them to freak out. The Dork Girls were then confused as to why the rats weren't always trying to kill each other.
According to Matt in Matt's Bomb-Ass Journalism Thing About Cereal, Dork Girl likes Krave cereal, even though it is disgusting.
In Matt's Bomb-Ass Apartment Tour 2: Judgement Day Matt says that Dork Girl was responsible for breaking one of his poster frames.
Community content is available under
CC-BY-SA
unless otherwise noted.