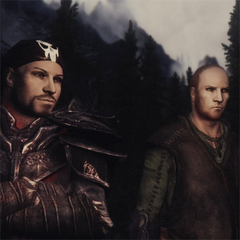 Jamie, also known as jpdoctor117, is the creator of Super Best Friends: The Video Game and the Super Best Friends: Skyrim Mod that adds Matt, Pat and Woolie as followers to The Elder Scrolls V: Skyrim.
His YouTube channel is Jpdoctor117.
Description
[
]
Jpdoctor117 an avid fan of the Best Friends and The Elder Scroll V: Skyrim. One day, he used his sick modding skills to merge both. He later threw Woolie into the mix for extra hype. In addition to the "Super Best Friends in Skyrim" content, he also adds other mods to The Elder Scroll V: Skyrim, as well as making some Sonic related videos. 
He is currently working on a fan-made Best Friends game that is similar in style to the early Final Fantasy games which used to include levels such as Raccoon City and Shadow Moses. This was changed when Jpdoctor117 decided he didn't want the risk of being sued. He has made references to both games (such as shitstorm hill being a reference to silent hill) and references to the show. The game features Matt, Pat, Woolie and Liam as party members and a prologue is available for download.
Works
[
]
Software
[
]
Videos
[
]
Trivia
[
]