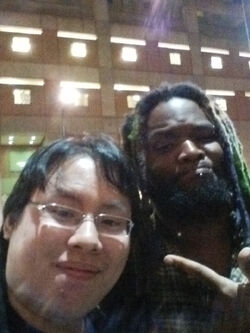 "Mike0Dude's a piece of shit."
— 
Pat
Mike0Dude is a moderator of the Two Best Friends Play subreddit and a known associate of the Best Friends Zaibatsu. He is notorious for sending Woolie a copy of ReBoot for the PlayStation, the playthrough of which he appeared in for parts eight onward.
In part four of the Heavy Rain stream, it is revealed that Mike enjoys anchovies on his pizza, to everyone's disgust.
In part twelve of Woolie VS Reboot, Mike tells Woolie that his username comes from the NeoPets username he had when he was eight years old; the name was chosen in reference to the character "Zero Cool" from the movie Hackers.
Mike0Dude makes homemade ice cream which Woolie refuses to eat.
Woolie stole his cooler during the Woolie VS Reboot series.
He feeds in league.
Community content is available under
CC-BY-SA
unless otherwise noted.