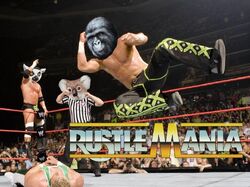 "And lo, their Jimmies shall be Rustled"
— Matt 3:16
Rustlemania is a series of videos that Matt, Pat and Woolie uploaded throughout August 2013, featuring a different wrestling game every day. The entire series can be viewed in this playlist.
Episodes
Edit
Jimmies' Status
Edit
The overall tally of all jimmies measured for Rustlemania resulted in a score of
[43] Rustled
[46] Unrustled
Resulting in the Best Friend's jimmies coming in at a 48.3% Rustled Rate for the month.
Best of Montage
Edit
A highlight reel covering all the Rustlemania episodes was released September 11, 2013, called The Best of Rustlemania.
Pat said he couldn't deal with the concept of Rustlemania in part eight of the Metal Gear Rising: Revengeance playthrough at about the 11:50 minute mark. He then called Envirokidz assholes.
Due to the series name, Matt was unable to say "wrestle" for a while after August, instead saying "rustle". This is mentioned in the Viewtiful Joe playthrough.
On the May 4th, 2015 episode of Monday Night Raw, Matt was seen holding a sign that read "Rustlemania II this summer".
Community content is available under
CC-BY-SA
unless otherwise noted.