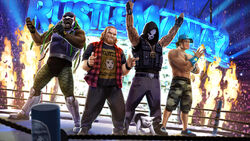 "Gentleman! Welcome to the second best sports entertainment, YouTube based event ever!"
— 
Matt
Rustlemania 2: SuperBrawl Saturday III is a series of videos that Matt, Pat, Woolie, and Liam uploaded throughout August 2015 as a sequel to 2013's Rustlemania event, featuring a different wrestling game every day. The entire series can be viewed on [ the website] or on YouTube.
Episodes
Edit
Jimmies' Status
Edit
The overall tally of all jimmies measured for Rustlemania 2 so far have resulted in a score of
[20] Rustled
[67] Unrustled
Resulting in the Best Friend's jimmies coming in at a 29.9% Rustled Rate for the month.
Best of Montage
Edit
A highlight reel covering all the Rustlemania episodes was released September 26, 2015, called The Best of Rustlemania 2.
The title art for this series was created by Maren.
A teaser video for this series was uploaded on July 25, 2015.
The different intro songs used for the series are:
Community content is available under
CC-BY-SA
unless otherwise noted.