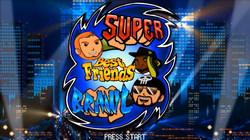 "The greatest spectacle in video game entertainment!"
Super Best Friends Brawl is a spin-off series of Two Best Friends Play in which Matt, Pat, and Woolie play local competitive multiplayer games referred to as 'Brawls'. The series derives humour from the hyped up frustration, tension and increasing butthurt from the trio as the fights come to a close. In addition, this series typically includes relevant clips from various media.
Episodes
[
]
Brawl League History
[
]
Trivia
[
]
The opening of each episode after the pilot also shows a character selection screen. This screen and the characters in it include many references to other TBFP episodes. The characters shown here have included Matt, Pat, and Woolie, as well as a Basking Shark, Zubaz, Bear Grylls, The Baby, the Fire Axe, Mummy Lobster, Hitomi J-Cup, and Liam. 
According to Pat, he has two unaired victories.
In his Reddit AMA, Matt stated that his favourite brawl is either Mario Kart or Mario Party. [1]
The music played during the opening credits of every episode is the main theme from Killer Instinct Gold.
There was an episode of Super Best Friends Brawl recorded with Liam, had a new intro by Cranky Construct (who apparently hates that intro, while the other guys think its amazing) in which they played Kirby's Air Ride. It was lost among other playthroughs that were stored in a defective hard drive. Apparently, Liam destroyed them at that game. [2]
Gallery
[
]