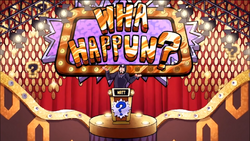 Wha Happun? is a series in which Matt discusses massive disasters from (but not limited to) the videogame industry and sheds some light on events behind the scenes and other interesting snippets to explain why the subject of the video failed so miserably or suceeded despite the overwhelming nonsense behind the curtain.
All of the episodes can be viewed in this playlist
The namesake phrase is a reference to a video in where Tiger Woods, Woolie recalls [1], on sleeping or cough medicine and was in a vehicular accident. It was first uttered by an elderly bystander in disbelief.
Episodes
[
]
Season 1 (2018)
[
]
Season 2 (2019)
[
]
Overkill's The Walking Dead

Aliens: Colonial Marines

Sonic the Hedgehog (2006)

Godzilla (1998)

Kingdoms of Amalur: Reckoning

Haze

Super Mario Bros. (1993)

Mighty No. 9

Silent Hill: Downpour

L.A. Noire

Lair

Sonic Boom: Rise of Lyric

Mortal Kombat: Annihilation

Marvel vs. Capcom: Infinite

Blood II: The Chosen

Tony Hawk's Pro Skater 5

Bubsy 3D

Superman 64

Silent Hill HD Collection

Mass Effect: Andromeda

Spyro: Enter the Dragonfly

WWE 2K20

Fallout 76 (Part 2)

Bomberman: Act Zero

Def Jam Icon
Season 3 (2020)
[
]
StarCraft Ghost

Brink

Epic Mickey

Rogue Warrior

WarCraft III: Reforged

Thrill Kill

Final Fantasy: The Spirits Within

Golden Axe: Beast Rider

Cooking Mama: Cookstar

The Sega Dreamcast

Alien 3

WCW: World Championship Wrestling

Battlefield V

Earthworm Jim 3D

Transformers: Rise of the Dark Spark

Scalebound

Metroid: Other M

Double Dragon (1994)

Left Alive

Postal III

Zelda CD-i

Ninja Gaiden 3

Banjo-Kazooie: Nuts & Bolts

The 3DO

Castlevania 64

Freddy vs. Jason

Dead Rising 4

Devil May Cry 2

Killer Instinct (2013)

The Wii U

Big Rigs: Over the Road Racing

Dragon Ball Evolution
Panzer Dragoon Saga
Rise of the Robots
Season 4 (2021)
[
]
Sonic Chronicles: The Dark Brotherhood
Disaster: Day of Crisis
PlayStation All-Stars Battle Royale
Skylanders/Toys to Life Games
Shenmue III
Mega Man X7
Metal Gear Rising: Revengeance
GoldenEye 007
Dark Souls II
The Predator (2018)
Cyberpunk 2077
Godzilla PS4
Legends of Heroes: Trails In the Sky SC
Beyond Good and Evil
Primal Rage II
Balan Wonderworld
Dino Crisis 3
Batman: Dark Tomorrow
The Room
ClayFighter
Metroid Prime
Sonic X-Treme
Final Fantasy VII Remake
Castlevania: Lords of Shadow 2
The Mummy (2017)/Dark Universe
Bionic Commando (2009)
Prey 2
Marvel's Avengers (2020)
Capcom Fighting Evolution
Legacy of Kain: Dead Sun
APB: All Points Bulletin
Advent Rising
Star Fox Zero
Soulcalibur V
Crash Twinsanity
E.T. (Atari)
The Sinking City
Alan Wake
Fatal Frame 4
Friday the 13th: The Game
Halloween: The Curse of Michael Myers
Evolve
Mortal Kombat Remakes
Sonic Forces
God Hand
Grand Theft Auto: The Definitive Edition
Spider-Man 3
007 Legends
Season 5 (2022)
[
]
Street Fighter III
XIII (2020)
Sleeping Dogs
Mega Man Legends 3
Midway
The King of Fighters XII
Star Wars: The Force Unleashed II
Rambo: The Video Game
Batman & Robin
Spyborgs
Geist
X-Men: Destiny
Perfect Dark Zero
Anarchy Reigns
Mortal Kombat Mythologies: Sub-Zero
Samurai Cop
50 Cent: Blood On The Sand
Resident Evil 1.5/2
Trespasser
Turok (2008)
Dead or Alive 6
Harvest Moon
Trivia
[
]
Starting with Spider-Man 3 (Season 4), the show's video thumbnail displays an updated logo with the correct spelling of the phrase "What Happened?"